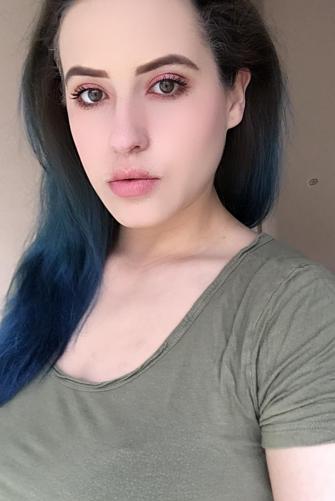 Amateur Model
Sonucktia
Moreno Valley, California
Hi, I'm Sonucktia! I am somewhat new to modeling but I do have experience and am wanting to get more into modeling!
Page Statistics
Physical Details
Height:

165cm / 5ft 5in

Dress Size:

14 UK / 42 EU / 12 US / 16 AU

Weight:

> 180lbs (81kg)

Bust/Chest:

48 inch (121cm)

Waist:

36 inch (91cm)

Cup Size:

E

Hips:

> 42 inch (106cm)

Eye Colour:

Brown

Hair Colour:

Brown (Light)

Skin Colour:

White

Hair Length:

Long

Shoe Size:

7.5 UK / 41.5 Euro / 9.0 US

Tattoos:

Large

Piercings:

Ears
About Me
I'm Sonucktia, age 24, 5'5", and would be technically considered plus size with a nice hour glass shape. I naturally have brown hair but it is usually dyed blue. I have one large tattoo on my hip of cherry blossoms and that's all but I plan to get more soon. My ears are pierced and that's the only piercings I have but like the tattoos I plan to get a couple more. If there is anything else that you'd like to know, please feel free to ask.
Experience
I have experience with fashion, cosplay, topless, and nude modeling. I have been working with my acting and voice acting on my own but have not done anything serious with it. I'd like to though. I can sing, I used to be able to dance, and I'm rather flexible.
Other Skills
Acting, Singing
Comments