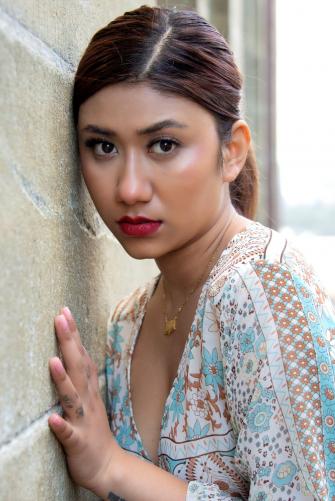 Semi Professional Model
Ruvi
Chelsea, London
My name is Ruvi and I am a model specialising in fashion and artistic projects depicting sensuality, beauty and femininity.
Page Statistics
Physical Details
Height:

165cm / 5ft 5in

Dress Size:

6 UK / 34 EU / 4 US / 8 AU

Weight:

113lbs (51kg)

Bust/Chest:

34 inch (88cm)

Waist:

28 inch (71cm)

Cup Size:

C

Hips:

36 inch (91cm)

Eye Colour:

Brown

Hair Colour:

Brown (Light)

Skin Colour:

Tanned

Hair Length:

Long

Shoe Size:

8.0 UK / 42.0 Euro / 9.5 US

Tattoos:

Discreet

Piercings:

Ears
About Me
I have undertaken a wide variety of modelling assignments that include fashion, runway, swimwear, lingerie, commercial, fitness, hair, boudoir, make-up, TV commercials and being a brand ambassador.

I represent several companies as their public face on their website and social media platforms. I enjoy creative modelling projects exploring abstraction, body painting and fine-artistic themes.

I am confident and dynamic in front of a camera with a strong ability to retell stories, establish rapport with audiences and being able to quickly respond to instructions from directors or photographers.

I bring uniqueness to any modelling assignment in Australia. I love to try really interesting modelling assignments. I always display a high level of professionalism when completing all modelling assignments along with a gorgeous smile!

I am seeking paid work exploring themes that are artistic, emotional and contain striking imagery establishing a strong rapport with the viewing audience promoting beauty, naturalness and the raw essence of being a female. I specialise in boudoir and artistic projects.

I look forward to having an opportunity working with photographers exploring a range of interesting and artistic projects. If I have not included the artistic style of photography you are seeking, contact me so that we can discuss in private what you wish to shoot and then I can decide if it appeals to my artistic vision. I very much like abstract projects.

For photographers who have a special project, please message me and provide the following details.
1. Your name and contact details.
2. Location of shoot.
3. Pay Rate.
4. Potential dates for shoot.
5. Approximate length of shoot.

I look forward to learning more about your project.
Experience
I have lot of experience in a diverse range of modelling styles - too many to list!
Other Skills
Acting, Dancing
Comments