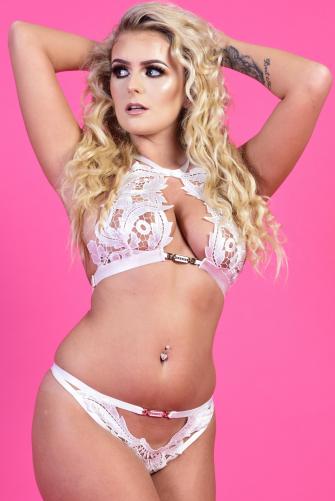 Professional Model
Lycia Sharyl
Clacton-on-sea, England
My names Lycia Sharyl I'm 20 years old and I am an international published glamour model.
Page Statistics
Physical Details
Height:

157cm / 5ft 2in

Dress Size:

8 UK / 36 EU / 6 US / 10 AU

Weight:

117lbs (53kg) (8.5st)

Bust/Chest:

32 inch (81cm)

Waist:

25 inch (63cm)

Cup Size:

G

Hips:

32 inch (81cm)

Eye Colour:

Green

Hair Colour:

Blonde

Skin Colour:

White

Hair Length:

Long

Shoe Size:

< 3.5 UK / 36.0 Euro / 5.0 US

Tattoos:

Large

Piercings:

Ears, Belly
About Me
Hey I am Lycia Sharyl. Thank you for looking at my portfolio. I am a fulltime model based in Essex and have recently transitioned from fashion into the lingerie and glamour genres. I have been published on Page 3 of a leading tabloid newspaper also mayfair magazine and various websites. I am available for shoots with both professional and hobbyist photographers, website owners and content producers, both in the UK and overseas. I enjoy travel and will shoot anywhere in the world as long as expenses are covered.
I am a committed, determined, hardworking and conscientious model with youth, energy and ambition on my side. I will not settle for second best or OK; with me you are guaranteed dedication and drive towards the best possible images we are both capable of creating.
I am equally comfortable modelling alone or alongside other models, within my levels. Whilst I am happy to work with professional stylists, I am also skilled and extremely proficient at styling my own hair and makeup and I will turn up to every shoot with both of them tailored to your specification, and to an immaculate standard.
My rates are £30 per hour (fashion), £40 per hour (Lingerie-ImpliedNude) plus travel expenses. I travel by train generally and will book in advance where possible to obtain good value. As this is my fulltime job, I charge a competitive rate based on my experience, ability and levels. Consequently I am generally not in a position to work on a TFP bases.
I happy to shoot clothed, lingerie, swimwear and glamour up to topless levels. Implied nude and figure nude will only be considered with photographers I either know or have been recommended by a trusted contact and then only if I consider the theme and context to be tasteful and appropriate to my professional image.
When contacting me with your work proposals please outline, in as much detail as possible:
Duration of shoot including start and finish times and breaks
Location of shoot
Proposed dates, giving me a few options wherever possible
Levels you require
Hair, makeup, clothing, jewellery requirements
Whether intended for publication
Themes and styles
Whether you will require a commercial release
My personal Instagram account, misslyciasharyl_xo is also used to showcase my modelling

Also a qualified make up artist and hair stylist
You will find my hardworking, reliable, organised and great fun to shoot with. I look forward to hearing from you with any serious enquiries.



Experience
I have been modelling for about 3 years now.
Only the last year and a half i have been professional and published in the glamour world.
I have been published in Daily Stars Page 3, Mayfair and Club Magazine and various websites like Only Tease, This Is Glamour, Body In Mind and so many more.
Other Skills
Acting, Dancing
Comments